Dental hygiene
Our dedicated new hygiene suite opened its doors in April 2022 offering a modern and relaxed environment for all your hygiene needs.
Our passionate hygiene team at the Hest Bank Hygiene Suite have extensive experience in maintaining the oral health of patients throughout Hest Bank, Morecambe and Lancaster and beyond. This can range from simple scaling and polish, to routine maintenance or more complex gum treatments.
We can help you design a bespoke oral hygiene plan to prevent recurring problems like staining, bad breath, gum disease, plaque build-up and more.
For patients undergoing dental implant treatment, our hygienists also help maintain your dental health from the beginning of implant treatment to the fitting of the final crowns and bridges.
We recommend all Hest Bank Dental Care patients have regular hygiene treatments at least once to twice a year alongside your routine dental health reviews.

Benefits of our hygienist care include:
Professional clean and tartar removal Plaque is a sticky bacterial coating that consistently forms on your teeth. If it is not brushed away properly, including difficult to reach areas like between the teeth, the plaque hardens to form tartar/calculus which cannot be removed so easily at home. Persistent plaque and calculus can lead to periodontal disease, causing bleeding gums, tooth mobility and eventually tooth loss. Your dental hygienist will perform an intensive clean on all accessible surfaces of the teeth to ensure any plaque and tartar build up is fully removed. If you have a lot of tooth decay, your hygienist may apply a fluoride gel to help protect the teeth from further attack.
Stain removal Drinking tea, coffee, red wine or fizzy drinks will gradually stain your teeth over time. Your hygienist will be able to clean these stains away using natural products like baking soda for a whiter smile. Our hygienists also use the innovative AirFlow system which uses air, sodium bicarbonate and water together to clean stains from your teeth.
Fresh breath A clean mouth means fresher breath!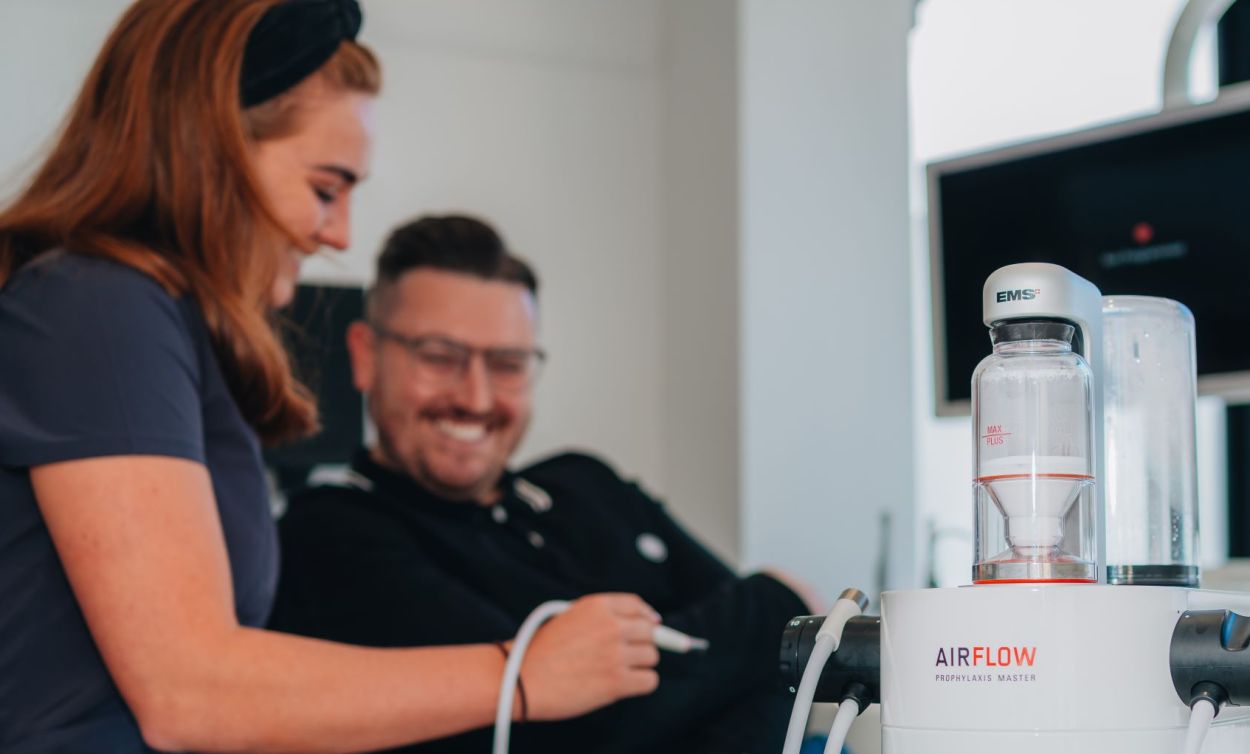 Prevention of gum disease Early signs of gum disease include bleeding gums when brushing. Your hygienist will test for this and if they spot symptoms. With regular appointments, they will be able to help deal with this before the disease has the chance to progress. They may use anti bacteria gel and solutions to apply under the gum line to kill any bacteria causing gum disease. It is important to pay attention to these symptoms as if left untreated, gum disease can lead to the movement or even the loss of teeth.
Oral hygiene plan We will work with your individual needs to create a tailor made plan for optimum maintenance of your oral hygiene. This includes recommending the right products, different types of brushes and showing you the most effective ways to use them.
Dietary advice and smoking cessation The food we eat can affect our teeth, this could be through staining or acid erosion. If your diet has had a detrimental effect on your teeth, our hygienists can advise on changing your eating habits to prevent further harm. Smoking is also a big factor in causing periodontal disease, bone loss, oral cancer, reducing healing after dental work and staining of teeth. Your dental hygienist can also offer smoking cessation advise if required.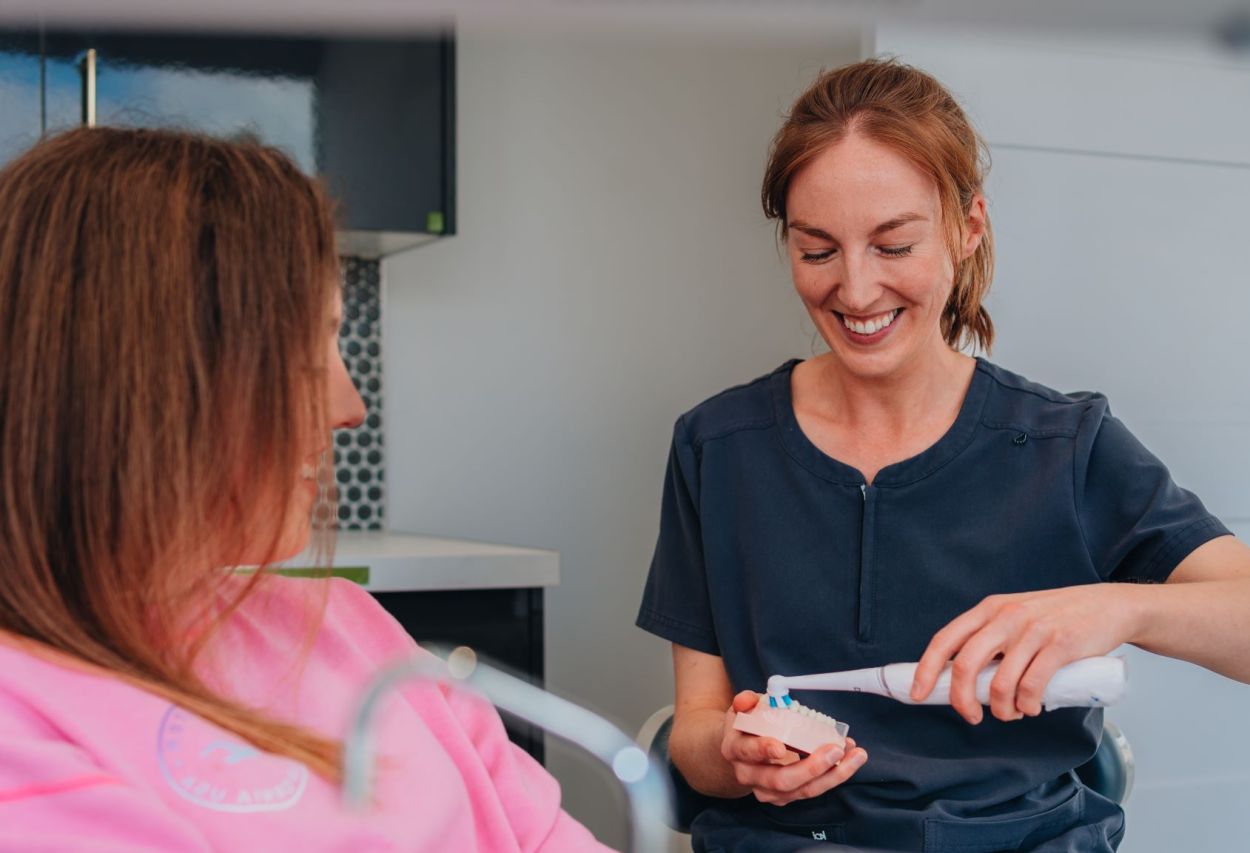 Find out more about our Dental Hygiene services:
Why choose us?

Multi Award
Winning

Air Purifier
- Virus Killer

Invisalign
Provider

State Of The
Art Facilities

Leading
Dental Care
Meet the team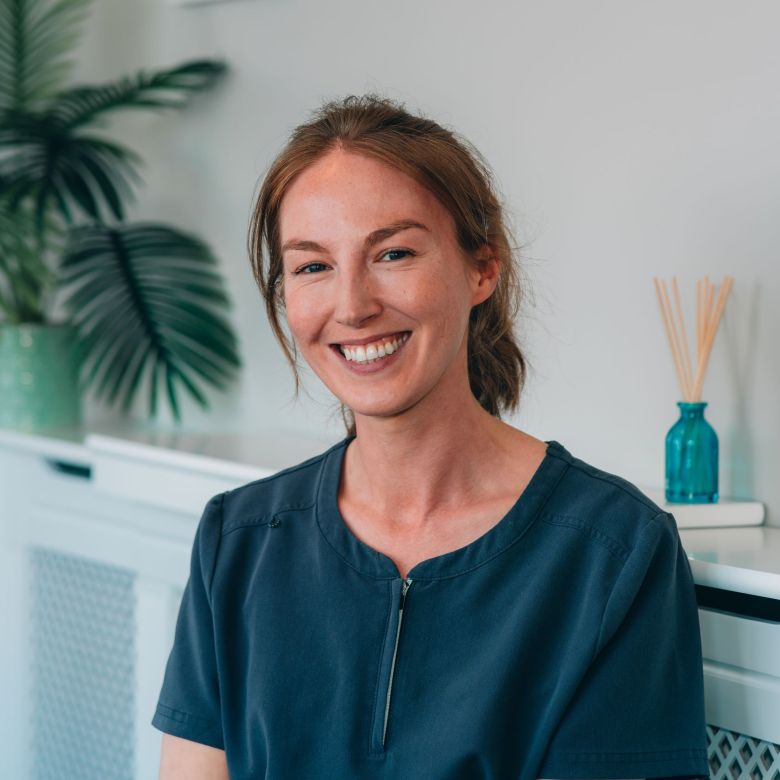 Dental Hygienist
GDC NO. 193014
Dental Hygienist
GDC NO. 246639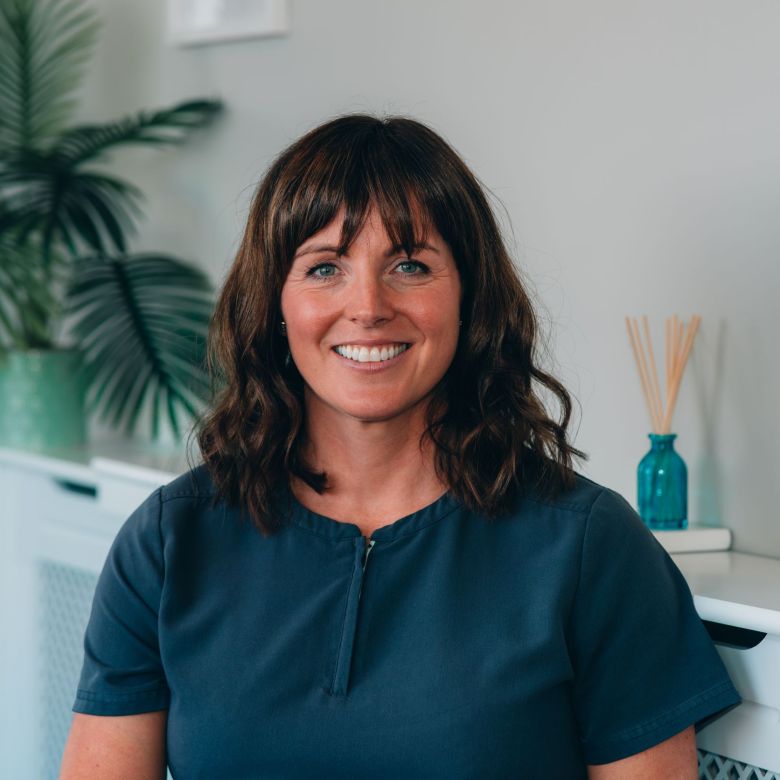 Dental Therapist
GDC NO. 125383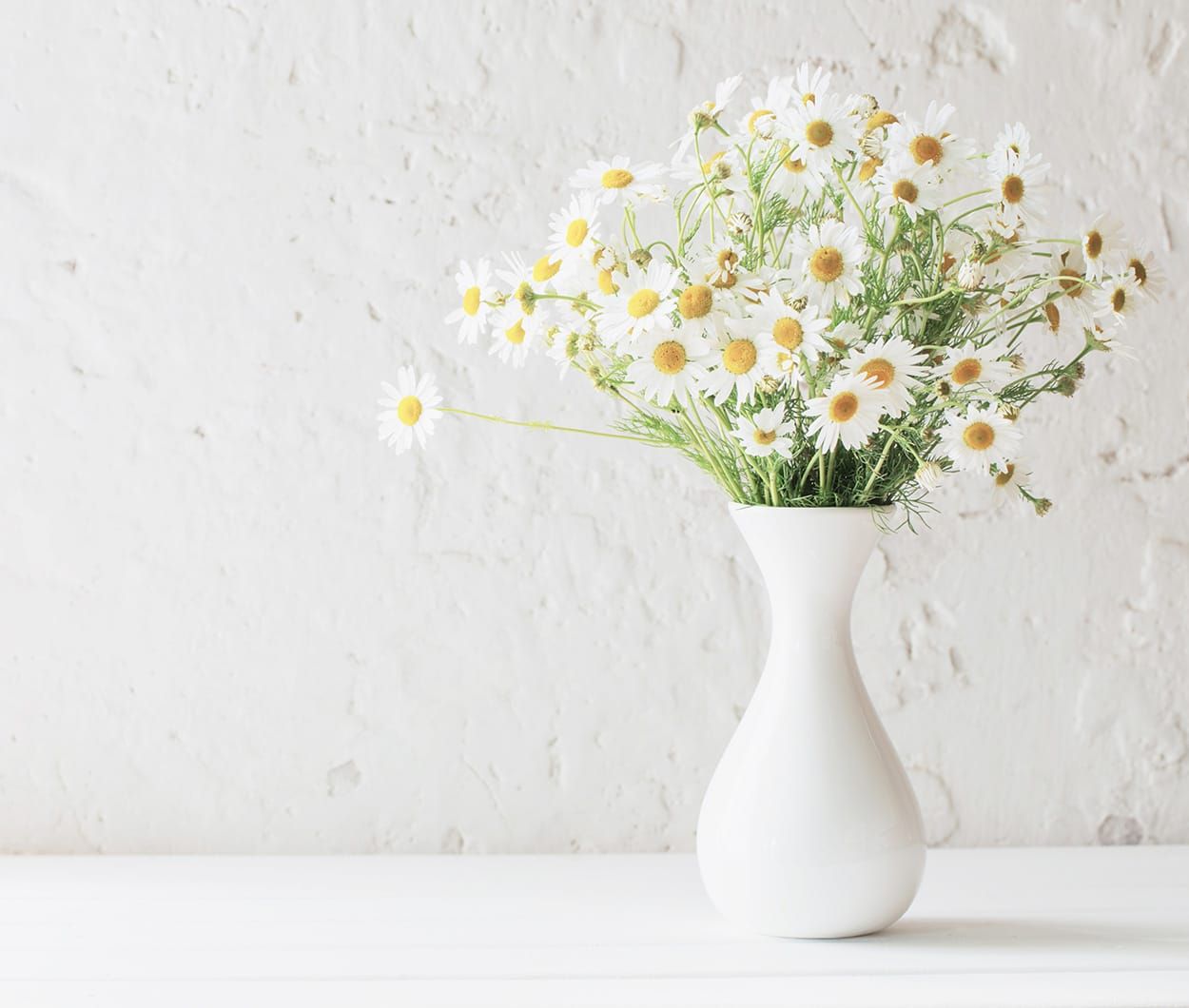 People are talking about us
The biggest complement we receive is when our patients refer their friends and family to Hest Bank Dental Care. In fact, we have built much of our practice on these valued, trusted recommendations over the years. Read our reviews to hear why our patients are recommending us…
Patient reviews
I received the professional care I paid for through the expensive Denplan system
utmost courtesy at all times, very efficient treatment
The hygienist was skilled and respectful
Friendly staff throughout the appointment. Always happy to help and gives you times to fit in with our busy working life's. Husband and wife always follow each others appointments without any issues. Really happy. Thank you.
All the staff were highly efficient and also friendly and approachable.
Friendly greeting and informed of appointment running few minutes late. Staff listened to me re a worry- dentist explained clearly what the problem was- very reassuring. Clean, tidy, polite and have already recommended
Very polite and efficient staff. Immaculately clean
Very happy and comfortable with my dentist, she made me feel at ease with the process also the dental nurse was very comforting as I was very nervous about this procedure
Your staff are so kind and helpful. I am so glad that I joined your practice.
pain free appointment - with everything explained
Everything about Hest Bank Dental Practice is spot on, I cannot fault the clinician, staff or surroundings at all. I will definitely be staying with the Practice and always recommend them to friends and family for a number one service. Thank you.
It was so clean and clinical , very professional and friendly
I had not had a dentist for over 20 years and so had a lot of treatment over 7 appointments. On each of those appointments I felt safe and that I was receiving the best treatment possible. I am very happy with the outcome and the care I received.
Excellent Dental Practice, very professional and clean. They have a well organised reception team, with lots of staff working, so it's easy to get an appointment. Everything is done in-house. They have the latest technology and 3D scanners, thus saving you time and travel expenses. I was a little bit nervous about getting surgery but Pinar and Darren put me at ease.
Even though I was early I didn't have to wait too long. Was offered a drink which was perfect. It's a long way to travel for Denplan care so I need it to be first class.
After dreading dental appointments elsewhere for over 30 years the level of care and skill I've witnessed at Hest Bank has transformed my dental experience completely … I now attend without fear and trepidation … a massive Thank You 'to Katie for her patience, kindness and skill …. A brilliant team !!
I was seen immediately by the dentist. No waiting to see the hygienist. Very satisfied with the service and prompt attention.
Personal service, my regulator dentist listened me and remembered the issues I had during my previous appointments and gave really good service.
I was treated well and efficiently. I was greeted in a friendly but professional manner. The staff genuinely seem to remember me as a patient and there is always a little time to chat.... which makes the trip to the dentist less formal.
Efficient staff, clean premises. No complaints at all
Very professional & personable expert team. Lovely welcoming environment.
Confident in treatment and clinician
My appointment commenced within a few minutes of the appointment time. The staff on reception were welcoming and helpful. The dentist and dental nurse were particularly good with my children (it was a family appointment for a check up) and particularly friendly - it felt like they had time for me.
logical explanation given of the alternative long standing problems of aged teeth.
friendliness and knowledge of all stafff. treatment well explained, and clinicians listened well to my comments.
Kind and caring staff , time taken during appointment didn't feel rushed
Efficiently organised, punctual appointment. Dentist (Pinar) welcoming, pleasant and highly professional.
Suits my requirements. Professional attitude by all staff at Hest Bank.
All the staff have a high standard of care and knowledge and always act in a professional / friendly way.
Good explanation, quick and easy appointment
Nothing to complain about at all.. all staff are very polite & helpful they always are!!!
I used to be scared of the dentist due to previous bad experiences with a horrible dentist. Since attending Hest Bank dental Centre, they have always put me at my ease & helped me with my nervousness. I feel very confident attending the dentists now. Katie my dentist explained everything to me for treatment going forward as she always does.
Dentist very supportive. Explained everything I would experience during extraction and what to expect afterwards. I felt very comfortable and in good hands. Extraction was painless and quick.
Brilliant team, knowledgeable, friendly, expertise. I've always been terrified of the dentist but not any more! Wouldn't dream of going to any other dentist ever!
Delighted with my treatment it was painless.
The dentist understands that I am a nervous patient, and treats me with compassion. The dentist is extremely gentle during treatment, and explains exactly what she is doing and why. I feel very safe, and all the staff contribute to this feeling. Thank you
The hygienist was nothing but professional
The hygienist was very good at putting at ease, explaining the process and a damn good clean
The dentist Sofia makes me feel at ease throughout my treatment and has a wonderful bedside Manor. All of the staff are welcoming and friendly and do everything to make your trip to the dentist a pleasant one.
As always the dentist, hygienist and all staff were polite, friendly and efficient. The surgery was spotlessly clean.I met Mike and Kate when they were first looking to open the practice and have always found them friendly and excellent at their work, properties they instil in their staff.
I was made to feel at ease, I was listened to. Very empathetic and advised on managing my routines with oral hygiene.
All my needs as a patient were met.
Very professional, courteous and efficient staff and a clean and calm environment.
Friendly and professional
Appointment was on time, nice friendly Hygienist and Assistant, very thorough cleaning as she worked her way around my mouth. Then a thorough polish at the end.One satisfied patient.Thank you .
The dental team at Hest Bank were professional and attentive as usual. Had time for my questions and always make me feel at ease
Always pleasant and caring staff.
very polite appointment on time
Totally professional in all aspects. Modern, welcoming surroundings. Easy to park. Appointment ran to time.
High standards throughout..good patient /all staff relationships..rxcellExcellent care!
The treatment I received was what I hoped for, but there is follow up tretment so I will wait and see the final outcome !!!
Courteous, professional, excellent explanation of the procedures before during and after, clear information about costs and a sense of humour without becoming unprofessional. An outstanding example of how to relate to other humans and their problems and work for the best possible outcomes. The chilled bottle of water during a slight delay before the actual consultation was especially welcome.
Appointment available in a short time. Treatment was excellent. Staff were professional, friendly, and efficient
Having previously used NHS dentists. I found the staff wonderful and helpful
Everything very pleasant, never any problems in the time I have been a patient.
Very professional team and very polite. The clinic is clean and very modern. The team gave me confidence in their ability. I felt the assessment was honest and the team didn't try to fabricate the need for unnecessary treatment.
Very attentive. Emma and Bobby were great. For example, Emma took the time to explain (with visuals) the going-on's of the cause-and-effect of what goes on regarding plaque, bone, gums. I highly recommend this office.
I was able to see a dentist the day after I rung and therefore my mind was at ease. Kate checked my mouth and reassured me that every thing was OK. As always the staff were friendly and professional and the rooms very clean.
Didn't wait too long, friendly staff, pleasant waiting area, professional approach of dentist and hygienist. Not too many questions about my holiday plans while tools in my mouth.
Excellent customer service every time I have visited
I am a nervous patient. I haven't been to the dentist in over a decade and was extremely anxious. I have only visited hest bank twice so far but I will be a long standing customer. I am now not as anxious about going to the dentist. Whoever is doing my treatment/checkup always explains things in great understandable detail and I am always told I have choice to decline/ have a moment if needed. All staff are so lovely
Everything went very smoothly and everyone was very caring.
Very professional clinician
I had not been to a dental appointment for 3 years because of COVID-19,I had to find a dental practice, near my home, and I have not been disappointedWell recommended.
As always the team were polite, professional and friendly.
I had Air Flow treatment today when I attended my hygiene appointment. I have always suffered with sensitivity and this Air Flow cleaning process uses warm water which meant I had no discomfort or pain. Sometimes, the water scale and polish I had with cold water previously became too painful and it had to be stopped.
Lovely surroundings, friendly staff and made me feel at ease
All staff were professional, knowledgeable and efficient throughout the appointment
I just wanted to add another 5* to the wealth of other reviews. I tried this dental practice because of the reviews and if anyone else is searching for one I hope this will help. My little boy (3) and I went for an initial appointment. The dentist (Katie) and the dental nurse (Darren) were so patient and worked so hard to make him feel comfortable. I was all ready for him to make a scene but he actually opened his mouth! Which is amazing. Then during my appointment Darren so kindly went waayyy above and beyond looking after my little boy, playing with him, following him round etc so I could have my assessment. I cannot tell you what this means to a parent attending an appointment with children and how stressful it can be. It felt like they really cared, they took the time, never felt rushed, they explained and it never once felt like you were being sold all different treatments. They listened and we discussed what I wanted from the assessment. My next encounter with the practice was my hygienist appointment, where I met Emma and Toni in the gorgeous hygienist suite. They were so polite and I felt at ease straight away and of course have done an impeccable job on my teeth. I literally want to go back already! I have already been telling people about this dental practice and I will continue to do so. Thank you. What a wonderful environment, practice and staff you have.
Felt my needs/wishes were listened to. Even though a little nervous felt at ease with dentist and nurse
Hygeinist had suggested I make an appointment to assess a loose piece of tooth between upper incisors. This was what I came in for. Delighted that the treatment was done there and then, and so no need to make a new appointment.
All staff and clinicians were very helpful and accommodating to me. Everyone was very friendly and chatty. The dentist and hygienist both explained everything really well and gave me good tips to help me take better care of my teeth!
The dentist was friendly and put me at ease, all the while keeping me informed as to what she was doing. Reception staff are friendly and helpful. The waiting room has a great view of the coast.
Was able to go straight in to the hygienist. Very thorough clean, great advise and friendly staff. Very easy to book next appointment. All round brilliant service.
The dentist and assistant were kind and considerate and explained everything to me.
Excellent professional and friendly service from all
it was as i expected and despite a bit of discomfort, entirely satisfactory
efficient, friendly and helpful
Seen on time - explanation of a problem with my teeth explained and remedy advised. Very pleasant and helpful staff.
Professionlism, courtesy, friendliness, efficiency
Got exactly what I wanted and were dealt with professionally
All at Hest Bank Dental Practice treat me with courtesy and friendliness. All the staff are highly professional.
The whole team were very accommodating from reception staff to dentist. I was running late for my appointment and they kindly hung on for me. Further to this, the appointment did not feel rushed to make up for this and I remained informed during the procedure.
I came to hest bank for some composit Bonding. The whole experience from start to finish was amazing . Stuart talked me through the whole procedure . The results are amazing! I'd definitely recommend Stuart!
I love this dental practice!!! The staff are all so friendly and approachable. Which really puts me at ease when I attend for my appointments, I get really nervous. Thank you all so much for working so hard. It doesn't go in noticed! X
Love this dentist, very friendly & professional. Staff are lovely. Highly recommend.
The professional way the practice is run and the dentist I use makes me feel at ease explaining treatment throughout my appointments
Have been coming here for a lot of years, got to know dentist and staff. A modern and comfortable surgery with a relaxed atmosphere.
My dentist is very calming and helps me feel at ease with treatment plan. As a nervous person who suffers from giggles she understands me
Pindar & Darren were so very professional, reassuring and gave me plenty of time & explanation
Friendly staff that listen to you and put you at ease.
Polite, professional,good communication, personable
The staff answered my questions and offered helpful advice. They were professional, helpful and friendly.
As always, Jonathan was absolutely fantastic. A good laugh, explained what was happening at every point, and even dealt with my terrible humour. The reception team always seem to know who I am, giving a really personal experience, and the different dental nurses always seem to be really great. I won't go anywhere else
I had a scheduled extraction this day and was dealt with a very efficient, friendly and professional team of Katie and Darren. Throughout, they both took time to listen to my clinical concerns but also had time to listen to my personal circumstances. They put me at ease, explained my options, explained to me the procedure and in my opinion and later explained to me how to care for myself, the potential outcome and reminded me in the unlikely outcome of an 'issue', the various contact options at any time of the day. As a result, I fully understood, at every stage, where we were going, why, how, when etc, I was very comfortable, could not fault them. The extraction was, within reason, painless and I was very satisfied with my treatment …… except, of course, I had to pay
I've been going to Hest Bank dentist for years, I've always felt safe, it's a very clean and hygienic environment. They are always polite and happy to help.
Always a good experience at this dentist whether I am having a check up or a clean. Visit every 6 months and never have a problem
Friendly professional service received from the dentist
Found they asked approximate questions and discussed health of teegh
Everyone is so lovely and polite, the new hygiene suite is fabulous and fresh. The hygienist was first class offering some good dental hygiene tips.
This practice is always friendly and efficient and make the patient feel that their time matters, there is no feeling of being rushed.
The procedure was carried out by professional and competent hygienist. The staff were friendly and helpful. The environment was clean and hygienic. I was provided with useful and helpful information to assist in my daily cleaning routine and practice. I have confidence in the staff at the practice and I would strongly recommend the dentist to my family and friends. Having had a poor experience at my previous dentist, I am so glad that I have joined the practice.
Really friendly and professional. Gave me a verity of choices of treatments with completely transparent prices. Also booked in for my next appointment straight away.
Kind and considarate, showed empathy and listened. I wasn't talked at, but talked too.
Always great professional service. Staff are friendly, approachable and always happy to help. Location is always spotlessly clean and tidy. I always recommend this surgery to friends and family
All is fine with everything, best dental practice I have ever used, wish I'd found it before
Very quick to schedule the appointment. Very pleasant and helpful staff.
The dentist and her technician are always great. Polite, interested in me as a person.
Pinar was amazing, very informative and friendly. She put me at ease from start to finish. Charlotte the nurse was great too
Exactly on time. Friendly staff. Good explanation of what was happening. Nice clean building. Good treatment. Excellent
You are very professional, explaining all the procedures in a friendly manner
Stuart is always courteous,, he advises what is best and has always been friendly and helpful.
My family and I have been patients for a number of years and can highly recommend them. It's everything you would expect from a quality dentist, professional, friendly and with all of the state of the art gadgets. They have recently spent time with my 3year old grandson over his first checkup. You can't start too early with preventative care or getting them used to routine checkups! They also explained to him what the dummy was doing to his teeth - so he decided not to use it again - miracle.
I can't praise Hest bank dental care enough from booking appointments to having treatments. All of the staff are always warm kind and helpful. My dentist Sophia has an excellent bed side manner making you feel at ease with her witty sense of humour and lovely nature, especially when you need it the most during those more difficult treatments. I can 100% say I don't dread a visit to the dentist anymore, I feel so well cared for and listened to. Moving to this practice has boosted my confidence after being disheartened by so many others, ill never go anywhere else. Thank you Hest bank Dental Care!
This was my first appointment with hygienist and was very pleased with my trearment
Great staff & great professional service I've been using Hest bank dental practice for 3 years now and will continue to do so
All staff I have met have been pleasant, friendly and supportive. My appointment was the best I have experienced and I am a wimp about my teeth.
The hygienist listened carefully to my concerns and went out of her way to ensure that I was happy and comfortable throughout the treatment.
Very professional Staff , friendly and knowledgeable. Easy to make an appointment.
The team always put me at ease, never thought I'd look forward to going to the dentist. The care taken with my treatment plan and time taken to explain everything to me was very much appreciated.
The Practice is efficient, the reception, nurses and clinicians warm welcoming and friendly. The Dentists are superb, would I go anywhere else - NO!!
It was very friendly and everything was explained clearly
Care taken,very professional
Clean safe environment. Professional courteous staff
I have had invisalign treatment with Sophia at Hest Bank. There have been a few issues as I have had a baby tooth extraction...but the team at Hest Bank have really tried to fix the problems promptly and are always keen to make me feel comfortable and are very quick at responding. My teeth are in the best condition they have ever been in and I am now looking forward to having an implant with confidence!
all staff very friendly and helpful. Practise very clean and tidy.
Everyone was pleasant and saw to my needs, I had no issue with anyone there.
Everything was explained well with the dentist putting me at ease as I have a needle phobia
Professional local clinic. Best dentist I have been to.
Felt like pride was taken in the work done. Friendly and professional service from the dentist and nurse.ensured I was happy and comfortable throughout.
The dentists treatment was better than my expectations. She explained what she was doing, asked about my comfort, was quick and very efficient, as was her nurse.
I was treated with pleasant staff on the desk. The nurse and dentist never did any other tasks which did not refer to me during my treatment. All the staff were very careful to listen to me and dealt my problem with concern.I had limited chat with the dentist, having had an amazing injection which worked almost immediately. The experience could not have been better.
SH
Samantha Rose Higginson
Brilliant staff and service. Always very friendly and put you at ease!
First class service backed up by well trained hygienist
Patient team, friendly, teeth looked lovely and clean. Just a bit pricey
Very professional service
Excellent friendly and efficient service.
All the staff have been excellent throughout my treatment. Can't rate them highly enough. I'm always recommending this dental surgery to others.
Friendly team, always on time
Professionalism and helpfulness of my dentist and dental assistant.
Efficient service. Always feel like the staff are well qualified and listen to your particular concerns. Clean, hygienic environment.
Dentist is lovely and assistant make you feel at ease and like to make it right
As always I was treated politely by all staff…although the clinician was a new one she was efficient, polite and explained fully the procedure she carried out. I have visited this dental practise for many, many years and am more than satisfied with the curtesy and treatment I receive…..
I was a very nervous patient when I started attending Hest Bank Dental Practice due to a bad experience with a previous dentist when I was younger. All the staff, dentists & hygienists at Hest Bank have helped me to overcome my nervousness with their patience & support I've always received from them which I really appreciate.
All the staff are friendly and helpful.
My appointment was on time and the hygienist made me feel very comfortable. She was professional, friendly and helpful and made me feel valued . She was very focused on my particular health issues , tailoring my treatment and advice to my particular needs.
Got the attention needed in a professional and respectful manner. there was work going on on the premises and the staff were also experiencing issues with the IT. They did not let any of this get in the way of giving good attention to patients and delivering first class care. Humour came into it too. (experiencing 'teething-problems' with the new set-up).
Always a very professional and caring approach
Great team that showed personal interest. Explained the treatment and they weren't just doing their job
Caring and efficient friendly staff
Having recently moved to the area this was my first appointment with a hygienist. The hygienist was kind and patient; she acknowledged my anxiety and gave me as much control as possible. I was delighted with how much cleaner my teeth looked afterwards; she removed some staining that I had previously thought was permanent and which had embarrassed me for some time. I am now much less scared about future appointments.
The best thing to come out of the recent pandemic is that my previous dentist remained closed apart from emergencies and I became a patient at Hest Bank Dental Care!
Excellent care taken. Given a full check and advised of next steps .
Friendly staff. Good facilities.
Competent booking and organisation. Very skilled dental hygienist and nurse. Great interpersonal skills, rapport, great communications and good fun too.
The dental practice is highly efficient, clean and very friendly, nothing is too much trouble and they make you fell comfortable and cared for
Usual friendly service from the staff on reception, barely any wait to be seen, efficient and friendly treatment by the hygienist..and clean and bright surroundings...
Booking in at New premises was very straightforward with direction from assistant - Hygienist made me feel welcome asked questions, waited for replies, updated personal information, very gentle whilst cleaning teeth, explained outcome of the visit and preparation for future visit.
Always efficient and good care
Welcoming staff, efficient service, excellent treatment quickly delivered, well explained and discussed. easy to make next appointment
Felt relaxed and always kept informed what was happening
Having searched for an alternative practice who welcome nervous patients I feel I've won the lottery …. Astounded by the welcome I've had, the kindness and patience of all practitioners is second to none … already I feel I can cope with treatment required, trusting implicitly in your team
Joined Hest bank dental care afew years ago as a very nervous client all the girls made me feel very welcome and comfortable which makes all the difference
Great team! Highly recommended!
The dentist was very skilled and I have had a good result.
Kate was very kind and considerate and has so farMade an amazing transformation to my teeth and the journey is not yet over!
Would recommend to anyone!
Excellent service and confident in mikes expertise
Mike, the dentist, is absolutely brilliant
I've been coming here since 2004 maybe and I came back after a 9 year work thing and was welcomed back with open arms and my file was still there which made my transition back simple and easy
I was listened too at every stage of treatment. My dentist explained and checked I was ok constantly which gave me confidence in her, which in turn made me relax. The nurses were also were lovely.
Mike Jones is a highly skilled and professional dentist with many years experience supported by an excellent team. All staff are friendly and other businesses could learn a lot by following their example.
The tooth cavity was able to be filled there and then
Mike the dentist is without any question the best dentist I have ever visited in my 60 yrs . Highly professional and very kind and understanding about ones dental needs .Fantastic dental care 100 out of 100
I was dealt with extremely professionally, very courteously and felt totally reassured with the treatment I was given. All members of the practice staff were very efficient.
Professional and friendly. Brilliant with children and myself as a nervous patient, thank you everyone at HBDP
From start to finish the whole team at Hest Bank Dental care were courteous, helpful and professional in administering the treatment I received. I am very happy in having Hest Bank Dental Care to look after my teeth.
When I visit, I feel that I am experiencing the perfect mix of friendliness and professionalism.
Mike and the team are simply the best both he and his assistant are fantastic.The new hygienist section is also superb and my hygienist and assistant were again the best.
Efficient, professional treatment in a clean, airy and pleasant surgery.
All staff here are professional and courteous, I can't fault the care and treatment that I've received here.
Had a lot of treatment done at Hest Bank when I joined, the service is professional and felt well looked after by all the team. Couldn't recommend them enough! Thanks to Sofia my dentist and the amazing Dental nurse Lois for everything!
Everyone's really friendly and welcoming, always providing a professional service and making me feel at ease. Sofia did an amazing job, I was really pleased with the results of my Invisalign. Thank you!
I have always had excellent service at Hest Bank. Appointment booking is easy, staff are always friendly and polite and the standards of hygiene and customer support are excellent.
Amazing practice, very professional and approachable. All the staff are friendly and polite. Stuart has been very supportive during the process of my treatment made me feel very relaxed and at ease; explained everything very clearly and always listened to my concerns. In my opinion they always go the extra mile for their patients.
The people at Hest Bank Dental are so friendly and helpful. I've had issues with my teeth for years and have never found a proper solution until I came to Hest Bank. Highly recommend this dental practice!
Hest bank dental care are an outstanding practice who are the best in what they do and the atmosphere is always a pleasant one whenever I visit the practice.
I'm a nervous dentist patient but having my teeth cleaned by the new hygienist and nurse was fantastic. Ive never felt more comfortable in the chair, they just knew how to put me at ease.
Staff are brilliant and always made to feel comfortable whenever I'm in. Been my dentists for many years now and will continue to do so
Excellent service and professional care. The staff are always so welcoming and friendly wouldn't go anywhere else now.
Such a friendly practice, the new hygienist Beckie and her team made me feel at ease. Thank you all
I have had many treatments now at Hest Bank Dental Care Practice, and I've been extremely impressed with the standard of care provided. I have never been kept waiting, and have always received timely, professional care on each visit. I would strongly recommend this practice to anyone who is dentophobic as your fears regarding treatment will soon been be allayed, by the caring, personable staff in the practice. I was very impressed, keep up the good work everyone!!
Thank you! Mike is a very talented and professional dentist, and him and his nurse make a great duo! Would highly recommend this practice
I've recently joined Hest Bank Dental Care as a patient and all I can say is I wish I'd made the move sooner! From my very first visit I felt cared for and listened to. All of my worries were taken into consideration and all the treatment and costs were fully explained to me. Every member of the team have been lovely; kind and professional.
Best dentists i have had. All the staff are great, and cant do enough to help
Sophia is so amazing! Always so attentive and welcoming. My 12 yo isn't scared of the dentist because of how lovely she is and the experience is so pleasant! The best dentist around
You can't get much better than this dental practice, everyone is so very kind, gentle and caring. I can't recommend it enough
Had an appointment at the new hygiene clinic today, all the staff were really friendly and the surgery looked lovely, the hygienist beckie and her nurse were excellent
Can not recommend this practice enough, was a very pleasant surprise today when I found out there is now a hygiene suite especially to create that gleaming smile!
Great practice with lovely staff
The practise is a breath of fresh air! Excuse the pun. Anne and her team on reception really work hard to make everyone feel at ease. The atmosphere is calming and they are all a credit to the business. Far cry from some 60yr old surgery with staff that dont care. Couldn't recommend this practise enough. Keep up the good work!!!
Absolutely lovely place and lovely staff, cannot fault anything
Would highly recommend, very caring and professional and Dr Sofia is fantastic!! All the staff are always very warm and welcoming and is all round a great experience. ⭐⭐⭐⭐⭐
This dentist is very friendly professional and caring would highly recommend
Amazing practise, all the staff are super friendly and always have time for you!
such a good dentist! had a filling and i didn't want the injection to numb my mouth, they said that if it was starting to hurt that they will put the injection in to help with the pain, everyone there that i met on my way to the surgery was so lovely! the receptionist offered me refreshments. the dentist and dental nurse was so lovely! i would recommend to friends and family!
Lovely place, receptionist was so welcoming! Would 100% recommend.
I have always been highly satisfied at every appointment at Hest Bank Dental Practice and this appointment was the same high standard as usual.The practice is clean, bright and welcoming.Every member of staff that I have come into contact with has been professional, competent, kind and reassuring.
Felt reassured during the whole appointment, excellent service
My lovely daughter in law is the practice manager, but the dentists and staff are so lovely and the dental work looks so good.
This has been my dentist now for a number of years. Its about time a wrote a review to let others know just how amazing this dentist is,and if this isn't your dentist then you are missing out on the best care you can recieve. My journey as a scared/petrified patient to start with, to now looking forward to my next appointments and giving me my smile confidence could not of happened without this amazing team, from the receptionists,management,nurses and clinicians. Big thankyou and keep up the amazing work.
Very friendly and relaxed practice. I always look forward to my appointments, the Dentists and the nurses are always very friendly and professional. I wouldn't want to go anywhere else for my treatment.
Fantastic service from start to finish. Lovely staff. Couldn't feel more comfortable and well looked after.
My son needed 2 fillings which required a numbing injection he is very scared of needles and was so anxious about it. The dentist and nurse that did his treatment were so lovely and could recognise his nerves. They found his interests and talked to him about them and put some music on to help relax him making the experience much better for him than he anticipated. There care and compassion towards my son was amazing and treatment excellent. Thank you Hest Bank team. Wonderful service
Im currently getting some orthodontics done by Stuart, I feel like his work is second to none and the whole process has been stress free. The nurses are great too, very friendly and professional.
Fantasic customer service, It's actually a joy to attend.
I cant recommend this place enough! The work I've had done there in the previous few years has been unbelievable, attention to detail and go above and beyond to accommodate any requests made. The care given on even the smallest of appointments is fantastic, I genuinely look forward forward to my check ups and hygienist appointments coming round! My little boy loves the place and the staff are fantastic with him! I sent my 92 year old grandfather here too, he is not the easiest person to please, he was very impressed with the care and treatment he received. Thank you to all the team.
Both Claire and Kate have been not only kind and welcoming with every visit, they also have managed to fix all my tooth problems that dentists for nearly a decade have struggled to do. Highly, highly recommended, there is no better dentist in the North West!
Very friendly professional staff , make me at ease when I visit would highly recommend this dentist to anyone
Very efficient and helpful nothing too much trouble. Felt really relaxed and calm, came away satisfied with the outcome.
Stuart is absolutely marvellous dentist. Very kind and gentle
My son has Autism and this practice is amazing with him. Wouldnt take him anywhere else
It is always the best service
As a very nervous patient I was treated with kindness , care and thoughtfulness by all staff . Treatment was explained on a step by step basis which helps with anxiety issues and treated with kindness by both Nurse and Dentist .
I am now a regular patient at Hest Bank Dental clinic. The staff are professional and efficient and helpful and polite, also very friendly. Excellent dental and hygiene care. Would highly recommend to any of my family and friends.
Very happy, was seen in a timely manner and the treatment to fix my tooth was fast and efficient. Everyone is very friendly and the clinic is clean.
Made such at ease as I am petrified of dental visits.
The dentist and dental nurse were great to speak to and really put me at ease. It was a long appointment and it was nice that they spent time at the beginning building a reporte
All my expectations where met
Very friendly and made me feel comfortable and did a fabulous job
Always treated with respect & courtesy, very professional.
Both dentist and dentist assistant put me at ease, I am a nervous client.They asked me twice how I was while having my filing.Receptionist very friendly and even booked a taxi for me to get home.
I was very happy with everything. I had broken a tooth the day before, I rang and the receptionist rang me back to offer me an appointment on the same day. I am a very nervous patient and would like to thank all for the swift service I received. Putting me completely at ease.
Very professional friendly service.
The hygienist took great interest in my well-being during the treatment session. She gave me little breaks and was very encouraging. She was friendly and professional. I felt very comfortable throughout.
Competent professional courteous caring understanding
Professionalism, friendly understanding staff.
I am always treated with kindness and consideration by everyone at this practice.My dentist and hygienist are professional, friendly and highly skilled and I always feel safe and comfortable.
This was only my second visit to the practice, the first being the initial assessment of the treatment required. The practice was recommended to me by my daughter who has attended there for many years as has her whole family. As has been indicated in the survey, I was highly satisfied with the visit as was my husband who has also registered with the practice and has already received a number of treatments.
Completely satisfied with care, efficiency and everything else
Everything is just right and it's good to be with a dentist that does not hurt and who is kind
The care and attention of the staff.
I explained my symptoms which the dentist understood, he looked at my previous X-ray of my problem tooth and explained what options were available. It was suggested I had root canal procedure and during the process it was discovered I the start of an infection in the tooth. Afterwards I was given a prescription for a course of antibiotics to clear this up.
Kind and helpful staff. Treated with respect and explained things clearly. Told of clear plan moving forward with treatment
Excellent treatment and advice from clinician as always
Dealt with efficiently with courtesy
It's the best dentist I have had
Always happy with the service I receive all staff members that I have met have been very good, respectful, friendly and always happy to help.
I asked for an emergency appointment due to pain in jaw. I was given an appointment the same day and my concerns were dealt with effectively
As I am extremely anxious I always feel very comfortable with the dentist/hygienist as she puts me at ease and I always leave with a smile every time.
I ask questions to understand something I am not technically gifted with, always wanting to prevent it re-occurring.Proper explanations were given every time I asked.The series of options -"what if" were given without having to ask When someone's starts the process by saying, I'm going to do this, then this, and an x ray to check, then I will finish off with this and is the treatment proves successful and you don't lose the tooth- on your next appointment we will crown it.For me- spot on!
Apart from a sudden change in appointment time everything was fine
I have been a patient for years, and never have I had a problem with team at Hest Bank. Very friendly
Professional, helpful. All the staff are polite and happy to answer any questions and help when they can.
Katie and Darren really put me at ease, everything gets explained as I am having extensive work done to give me the smile I've always wanted. I shouldn't enjoy going to the dentist as I am a nervous patient, but they both make it an enjoyable experience.
All staff are always upbeat, welcoming. My dentist Katie has a wonderful professional manner. She explain things so well and gives you her full attention. Thank you
Does what it says on the tin
Stuart is excellent with my children and takes time explaining what is happening to their teeth so that they understand how to best look after them.
I have 100 percent faith in Stuart Johnson and the efficiency of the team
Always friendly and clean practice. I have vertigo and sometimes go dizzy when reclined. Always ask if I'm OK.
I was in a lot of pain and they fitted me in straight away at short notice. Removed my tooth painlessly. I have a dread of dentist visits but not anymore.
Every time I go to Hest Bank Dental it's always the same first class whatever procedure you have always put you at ease best Dental Care in north Lancashire.
Courteous, informative… very friendly, made to feel at ease
The build appeared well sanitised and clean. Staff members were all polite and respectful. The dentist communicated everything that was going to be carried out before doing it and checked on my comfort throughout the session.
made welcome .staff quick and efficient
From the first phone call to the attention and care I received, everything was first class as it always is at this practice.
All the staff at the practice were professional and listened to any concerns I had. Both the hygienist and dentist explained my treatment along with plans for future treatment with clarity.
Friendly staff all procedures were explained.I had afew medical issues for afew months prior to my appointment and I felt I was listening to .
My appointment was on time. All the staff were friendly, efficient and professional and made me feel safe and comfortable.
Needed an emergency appointment and I was seen within 2 hrs
Brilliant service highly satisfied
The reception staff were quick and polite. Wait time was fairly short and there were clean, dental-related toys for my son to play with while we waited. My treatments were explained fully and pleasantly, and performed quickly without me feeling rushed. The dentist and dental nurse took the time to engage with my young son who was nervous at seeing me have dental treatment.
The treatment was explained to me fully and the dentist checked on my well-being throughout the treatment
I couldn't be happier with the service provided by both the reception and clinical staff. Desperately trying to type enough to get the needle into to green!! Result!!
Stuart Johnson is a great dentist
The dentist, Stuart, was exceptionally friendly and professional. Everything was explained to me and not rushed. The dental nurse and the receptionist was also exceptionally welcoming and friendly.
I was treated great at the practice. I was in and out pretty swiftly and my treatment was explained to me in detail. Reception was friendly and helpful. They seemed like they had a lot on, but were always trying to serve people as quick as possible as well as answer phone.
Pleasant and efficient staff
The staff were kind and courteous and efficient
The whole team at Hest Bank Dental Practice make you feel very valued customer, I have recommended the practice to a number of people and they all same very happy with the choice.
Explanation of treatment. Attention to detail of the required dental work.
Always use Hest Bank. Excellent service.
Hest Bank dentist is the absolute best, a big thankyou to all the wonderful staff and experienced, professional dentists. They all go above and beyond. We all go as a family and feel supported at all times. Highly recommended x first class service always. A*A*A*A*A*
waiting was minimal in both cases, teeth were cleaned & polished carefully, dentist checked overall condition & provided a further appointment to treat chipped front top tooth.
Professional caring & knowledgeable clinical and administration team Quality treatment and care
The two appointments were consecutive which saved me time. Both experiences were thorough and painless.
I have got to know my dentist well and we have a very good understanding with one another so it is very easy for me to make make the best choice for treatment.
Fabulous staff and dentist,very friendly, very clean , never nervous about attending an appointment, and he always does a fantastic job ,I always recommend this dentist.
The hygienist was very professional, sensitive to my needs and thorough. I liked the way she demonstrated techniques for me to use when I'm carrying out my dental regime.
My family doctor is so professional and so great.all time every check up she tell what I need to do for good results. She always right. Thank you for help full
Nothing to add to answers.
Attended for a routine check up and as usual I had no concerns with my treatment and advice that was given to me.
Got an appointment same day to fix broken tooth, all staff helpful and friendly. Dentist was fantastic fix the problem in the same appointment which I wasn't expecting.
I was treated with respect & kindness. I was listened to & the dentist was gentle.
I was treated in a friendly but professional manner by all the staff.
Receptionist greeting on arrival warm and friendly. Dental appointment carried out in an efficient manner, queries answered promptly re next appointment. Hygienist appointment similarly satisfactory, no discomfort felt.Staff invariably in good humour at this surgery, well satisfied.
I have used many dentists and understand the difference between a competent and incompetent dentist and I can also identity one who cares about what they do. Stuart is exceptional in these areas and more
Excellent service, seen on time, clean clinic, friendly staff. Have complete trust in my dentist, he is calm and thoughtful and takes time to explain treatments. I went for check up but needed a filling sorted and this was completed at the same time, fantastic service
My daughter had an infection on her wisdom tooth so was given immediate pain relief and antibiotics
Always feel confident about,his my treatment at Hest Bank surgery
I felt very happy with the treatment I received. The treatment was well explained and although dental treatment is never pleasant it was all very gentle
The dentist Jonathan was absolutely lovely he made me feel very calm and kept me updated all through the appointment. I was very nervous about the appointment and he made me feel so at ease. Such a lovely dentist!
Everyone is very caring ,kind and efficient.In an emergency they fit you in as soon as possible.Had a tooth extraction even though my past experiences with dentist was not good.The dentist explained everything in detail and took time and care.
All staff are a credit to their profession.
I feel Johnathon listened to what I wanted and I'm really pleased with the results of my composit bonds
Apart from the short time wait everything was quick and efficient
Always gentle when scaling&polishing my teeth&makes me feel at ease at all times.
All carried out fully professionally and on time
Great service, not rushed and things explained in detail
I had the check up at the same time my 3year old and 5 year old did. Stuart made them feel at ease and relaxed. They have no fear of dentists thanks to Stuart! He answered our questions on sugar in foods and at no point did we feel that we were being pushed out the door. It was a great visit & the kids brush their teeth saying they want to make Stuart proud bless them!
My dental work was carried out safely and efficiently and I was never in any pain or discomfort. I was also given a thorough post-procedure care package to minimize the risk of any infection or excessive bleeding.
A higjly proffessional sevice and polite and friendly staff . Also Mike the dentist is the best dentist I have ever met in over 50 yrs . And is the one reason I will always stay with Hest Bank dental practice
Very helpful receptionists, the Dentist explained everything to me clearly, did not push me into anything and made sure I was armed with all the information, to enable me to make an informed consent.
Everyone was very helpful, professional and friendly. I was seen quickly and the dentist addressed the issue I had with teeth sensitivity. The dental practice is always lovely and clean. It has beautiful views from the waiting room and it feels very safe in terms of Covid-19 infection prevention measures. I always appreciate the kindness and care at the practice. I would highly recommend it to friends and family.
Nice staff, good environment and no waiting about.
Nothing is ever too much trouble i never feel rushed and always listened too. The care and treatment i recieve is always amazing. I have and do recommed many people to the practice over the years
Your staff are so lovely and make my nervous son feel so at ease. They are so understanding of his needs and take time to consider what they can do differently in order to accommodate him. It's much appreciated!
Friendly professional staff. Excellent treatment.
All the staff are professional and helpful
As always a very good experience, from start to finish
Its a lovely bright clean practice and the staff are so lovely ,put you at ease, just wonderful,I'm never worried about going to the dentist anymore !!!!
Always very friendly staff every single member I came into contact with is always smiling and says hello. All staff that have worked on my oral health have been super considerate and made sure I feel at ease.
All staff very professional yet friendly & make you feel a valued patient. Top class dentist.
The treatment was very well carried out with no problems.
The hygienist was friendly and welcoming. She checked my teeth and gave them a clean and polish.
I feel very safe in the practice. All of the practice staff are welcoming and listen to what you have to say. I have claustrophobia and this can be an issue with a hygenist appointment however the appointment runs at my pace and I can take breaks when I need to do so.
Polite and pleasant staff.
Have been going to this practice for years and have always found it an excellent practice
The hygienist recognises that I am a nervous client and has lots of empathy. She explains everything she is doing, and why she is doing it. She is very gentle, and the experience is painless.
Everyone is really nice and it is very clean
As ever highly professional service from Emma
This was an emergency consultation and I was seen quickly and the problem was explained clearly. Stuart the dentist great.
My time wasn't wasted, good treatment and advice.
Lovely staff, very pleasant and put me at ease. They checked I was ok throughout the treatment.
Very attentive and caring manner with both the dentist and her assistant. I felt at ease and not stressed like I would usually be at a dental appt. Explained everything and had a relaxing atmosphere with radio on
Friendly, professional highly skilled team work
From start to finish I felt informed, safe and very well looked after. I have complete faith that I am receiving the best treatment whenever I attend Hest bank dental care.
Quick professional treatment and dentist has good sense of humour
Appointment on time, all staff very helpful and friendly. Dentist expliained what I needed doing, what the process would be, and after my treatment explained what I may feel and if I thought it necessary give them a ring if any sign of discomfort.
Pleasant appointment with my dentist, everything during my visit was discussed and explained to me, previous advice had been followed and the results were clear to see on my before and after Xrays. Receptionist always happy, positive and helpful. We are very happy.
Everyone at Hest Bank Dental Practice are always friendly and helpful and Mike is the best dentist I have ever had.
Friendly courteous informative interested
I suffer from a significant neurological condition, which is new to me and impacts my daily life and how I function. The dental team put me at ease, adapted to my needs and made me feel relaxed throughout my check up. Thank you.
Got me booked in quickly, built standing appoints around me to make time to sort out my broken bridge, friendly and professional getting me in the seat as soon as I arrived, worked hard ensuring my comfort at all times talking to me all the way through explaining all work and options including advise on choices. I truly could not have asked for more.
Professional;courteous and skilled clinical care was delivered.
Hygienist very friendly and professional
Mike has crowned my whole mouth around 15 years ago and I would never want to change my dentist...he is brilliant
The staff are always helpful.
All went according to plan. The staff obviously know what they are doing at just get on with the job in a very professional way. Good chat. pleasant atmosphere.
They accommodated me being held up and slightly late (10 minutes) with flexibility and no complaint. Both sets of clinicians I saw were cheerful and friendly as well as highly professional. My treatments were quick and I had confidence they were of the highest standard
Overall as usual, the team were great. My only suggestion is if a patient makes a request that helps them feel safe/comfortable, just accept it and move on. Further discussion isn't necessary. Thank you!
Professional treatment and advice
Could not fault in any way
Very friendly staff. Emma is very approachable and easy going. Can always have a laugh. Which is important in a dentist!!!
Totally professional in every way
I have been coming here for years and am very satisfied with my dentist and the work that he carries out. He is a perfectionist in his work which I really appreciate and like. My dentist along with all the staff are professional and friendly and treat me with respect.
Friendly & efficient reception; courteous & professional dentist
Listened and explained future treatment I am having. Put me at ease.
Friendly, efficient, complete
The team at Hest Bank Dental were great and the care I received was fantastic. My dentist was quick to find the problems and address them as we are currently awaiting a referral to the hospital for significant treatment, and we are treating problems which arise whilst we wait for the appointment at the hospital. The. Treatment which I received was fantastic and was completed quickly and painlessly.
Very efficient and pleasant staff. The hygienist was thorough and I felt I received excellent treatment
Genevieve and pinar both treat me and my nervous anxiety with patience and care. Genevieve is very calming and helps to put me more at ease
I was made to feel comfortable throughout. Everything was explained clearly and I received the advice I needed
Put at ease, and friendly conversation.
Extremely accommodating as I went on the wrong day but they gave me an appointment shortly after I arrived. Hygienist was very gentle and thorough explaining everything
All staff were welcoming. Hygienist did an excellent job.
Helpful, professional, friendly staff.
Professional and efficient service.
Everyone is absolutely lovely. They explain everything very well. I've not had a bad experience any time I have gone. Already highly recommending to friends and family.
The staff are lovely and always happy
Always friendly and super treatment
Friendly and efficient booking process, friendly staff, painless treatment from friendly clinician. Would be happy to recommend.
Can't recommend HBDC enough, every member of staff is so lovely and welcoming. Stuart has been my dentist for many years and is amazing. I now travel from Newcastle for dental treatment because I don't think I'll find a practice that beats this one!
From the reception staff hygienist, and my dentist Katie thank you great job.katie you are amazing took my wisdom tooth out no pain no fuss highly recommended thank you all.
Had to have a very deep filling replaced recently. As a nervous patient, Pinar made me feel relaxed and at ease during my treatment. She explained everything she was doing which was carried out with absolute professionalism and to the highest of standards.Thank you.
Thank you so much to Kate who helped to put a smile back on my mum's face. Kate and her team is amazing, kind and very helpful. I needed to come with my mum to help her communicate and it was not a problem at all. Everyone is very professional and understanding. I would definitely recommend this practice to everyone and I encourage my friends and family to go there whenever they have dental problems. A massive thank you Hest Bank Dental team from me and especially my mum, ! You're the best. Monika and Anna
A fantastic dental practice that puts you at ease as soon as you walk through the doors. The reception staff are so friendly and helpful, nothing is too much to ask. I see Pinar who is very considerate of my nervousness and does everything she can to make me feel relaxed. I couldn't be happier with my recent treatment, absolutely first class
Lovely practice, could not recommend it more to people
After being a nevious patient, coming to hest bank and seeing Pinar I have got over my nerves. Thank you so much
Very gentle. I've been going there for several years and i always receive a friendly, professional service. I see Stuart, who is extremely soft and gentle. Would definitely recommend.
Just been for my first appointment and being a very nervous patient I was extremely nervous. The team were great and put me at ease. I now don't feel so anxious about my next treatment. Thank you.
lovely dental practice with a great team, highly recommended.
Katie is amazing and has taken care of my entire family, including me, my wife, and our toddler. Wonderful service from the entire team, too!
Amazing services and staff, highly professional and their services are top notch! definitely recommend them for adults and children!
Went in really scared and in quite a bit of pain. And was resured by the staff and now I'm pain free and not feeling as anxious for my next appointment thanks to Stuart. Thank you so much.
After years of struggling with my teeth and wrongly sold treatments I had lost hope with finding help. I was recommended to go to Hest bank dental. An outstanding team, I was looked after by Bhavika for just under a year. A lovely lady with high knowledge and professionalism made me feel most confident in that we could achieve high end results and she definitely did. I am so happy with my teeth and can't thank her and the practice enough.
A big THANK YOU, for giving my granddaughter, Zara Johnston, an Emergency Appointment. Ms B PATEL , is a highly-qualified, kind and gentle Dentist. THANK YOU
First class treatment.... Very understanding and compassionate to your needs... As a nervous patient Sofia and her assistant have totally calmed me down
Lovely dentist practice with great staff! They make you feel very at ease.
Excellent customer service. My wife was so nervous of dentists and we have both had bad experiences elsewhere but Hest Bank is warm, welcoming, professional and understanding. Restored our faith in dentists!
Highly recommend this practice. Modern and professional service with great attention to detail. Innovative ways of fixing issues. Friendly and personal service. (Melanie Forrest)
Having breathing and sinus issues it has always been a nervous trip to the dentist until I moved to this area then found Hest Bank Dental opening just after.The care and understanding I receive is 1st class from all the lovely team. Can't believe I dont get as worried as I used to when going for my appointments. Plenty of people find it easy to complain but never to praise, but I plan on staying a long term customer.Thankyou to all the team.Tom
Been going to Hest Bank now for a good few years. Luckily no major work required but when i do go Mike and his nurse are brilliant. Very professional but also keeping things very friendly and chatty. The place has had a lot of new work done recently, the whole practice is looking great. Always have a chat with the reception staff, they are very friendly and always happy to help.
Great and friendly service. As a nervous patient I felt at ease here. Recommend highly
Excellent dentist, lovely warm and welcoming staff. I love my Dentist Stuart, always chatty and makes you feel relaxed.
Our whole family attend Hest Bank Dental Centre it is a fabulous,friendly and caring practice. The whole team make you feel very welcome at every visit. Highly recommend
I truly cannot thank Anna enough when I eventually got enough courage to go to the dentist after years of neglect my teeth were in an awful state I cried when I walked in infact I cried a lot but Anna was on hand and within no time I seemed calm within 8 weeks I have a whole new smile with more teeth than I ever imagined thank you so so much
I can only vouch for Stuart, the world's most lovely dentist, but I can not recommend him too highly.
Absolutely wonderful service, caring & very professional staff x A*A*A*A*A* highly recommended x x superb dentist x x the best x x
I have to say that this is the best Dental Practice that I have been to.
I came for a day of work experience and found very friendly staff like Darren, Charlie, mike, Lela, Claire and more. I see that there is a lot of work going in to this practice. I recommend this to all. You can tell this is a amazing practice as all patients leave with a smile.At the time I am writing, they are currently up grading the building to make all those smiles so much brighter. Iain
My son has just had his 2 front teeth out. Wendy and her dental nurse were fabulous and handled a very nervous little boy wonderfully. I would totally recommend. Many thanks
After years of terror at the thought of visiting a dentist I have found a one at Hest Bank Dental Centre whom I trust totally, even to the point of believing him when he suggests treatment without anesthetic. All the staff I have encountered there have been helpful and friendly.